How Much Does Skydiving Cost For The First Time?
General
Posted by: Boston Skydive Center 3 weeks ago
Have you ever wondered: how much does skydiving cost?
The cost of skydiving for the first time depends on how you choose to jump (spontaneously or with a reservation), the day of the week you book, and if you qualify for any other promotions (such as Student/Military). The average price of a skydive is around $300, which buys you a tandem jump, attached to a highly experienced instructor. The latest pricing for skydiving at Boston Skydive Center can be found on our website. Currently, you can jump on a weekday for as low as $228 and a weekend for $248. Its best to book in advance for the best rates. Jump for a second time and it's just $209!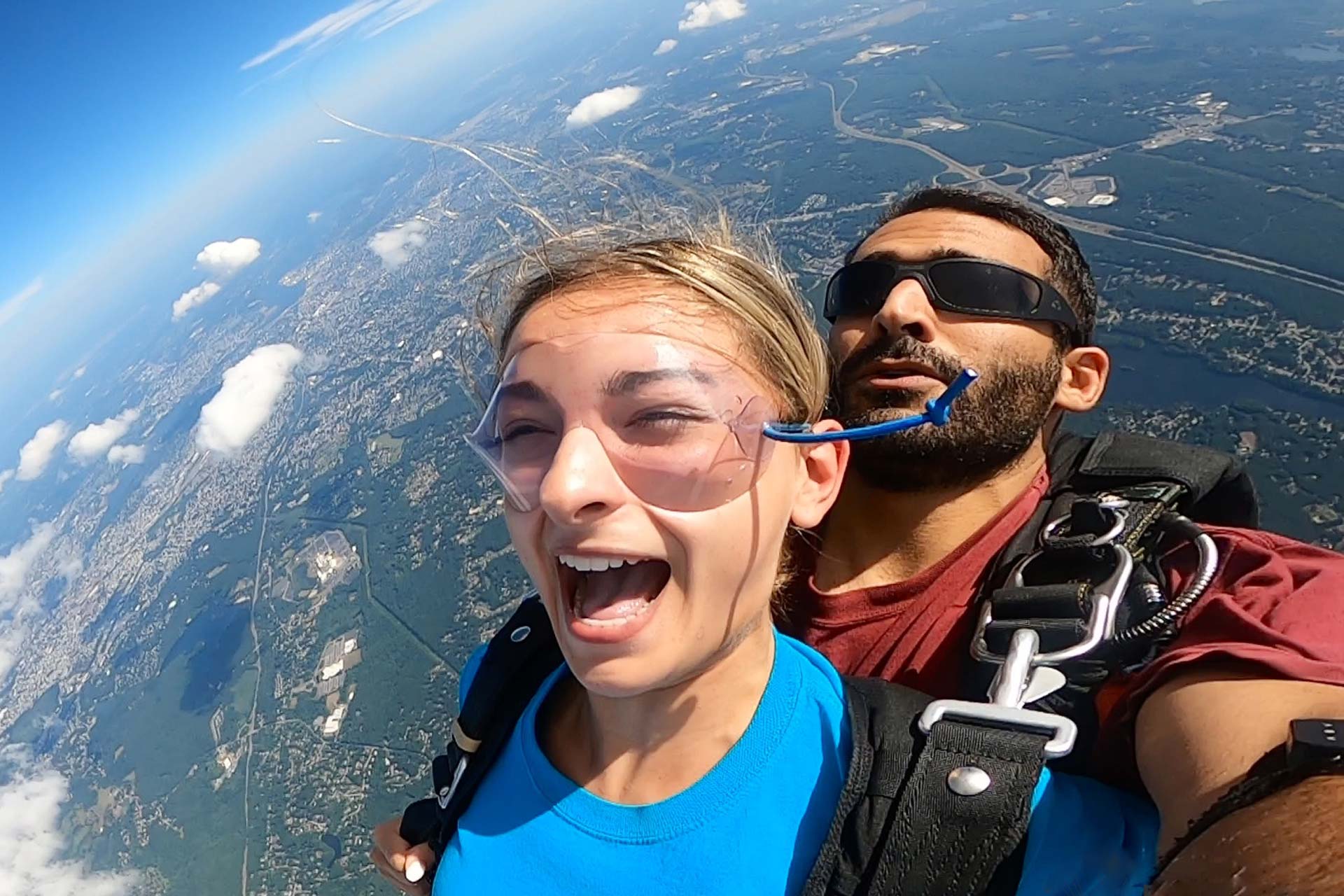 WHAT'S INCLUDED IN THE PRICE OF A TANDEM SKYDIVE?
It may be called "free" fall, but unfortunately, jumping out of an airplane doesn't come for free!
There are various costs that need to be covered in order to make your first skydive the experience you deserve. When you pay for a tandem skydive, you get:
A highly experienced tandem skydiving instructor to accompany you through your experience with us
A brief training session, during which you'll learn about your responsibilities as a tandem student, and about what you can expect during your jump
Use of all gear such as jumpsuits, goggles, and helmets as required
A ride up to our exit altitude in our skydiving airplane
Approximately 60 seconds in freefall
Around 5-6 minutes of parachute flight
For the price of less than $300, you'll have the unforgettable skydiving experience of a lifetime. But that's something you can't put a price on. Check out our info and rates for more information.
COSTS ASSOCIATED WITH A FIRST-TIME SKYDIVE
The costs associated with a first-time skydive go beyond the price you pay for your jump. When you choose to make your first skydive with us, you can rest assured that you're jumping with a United States Parachute Association (USPA) member skydiving center and that we maintain all of our equipment and aircraft to the highest standards.
You also get to jump with a highly experienced, USPA-approved skydiving instructor. That means you'll benefit not only from their knowledge but also from their passion for the sport. And they're happy to share all of it with you.
Have you ever met someone who's jumped from an airplane hundreds, if not thousands, of times? They're a pretty awesome kind of person! Spending your first time skydiving with such a passionate skydiver makes a huge difference for your experience.
Then there are our amazing dropzone facilities. Why not bring along your family and friends to watch and cheer you on? While they wait, they can enjoy our spectator area and great views of the landing area.
WHAT OTHER COSTS ARE ASSOCIATED?
As well as the price of the skydive itself, you can upgrade your jump to include skydiving videos and pictures. You'll get high-quality photos and videos of your jump to capture your once-in-a-lifetime skydiving adventure. Plus, you'll be able to easily share it with family and friends on Facebook, YouTube and your other social networks. Check out a sampling of videos on our YouTube Channel!
You can see the prices for skydiving video and picture services here.
So what do you say? Ready to skydive? Book online today.