Live
In The
Moment
Committed.
Professional.
Safety-Focused.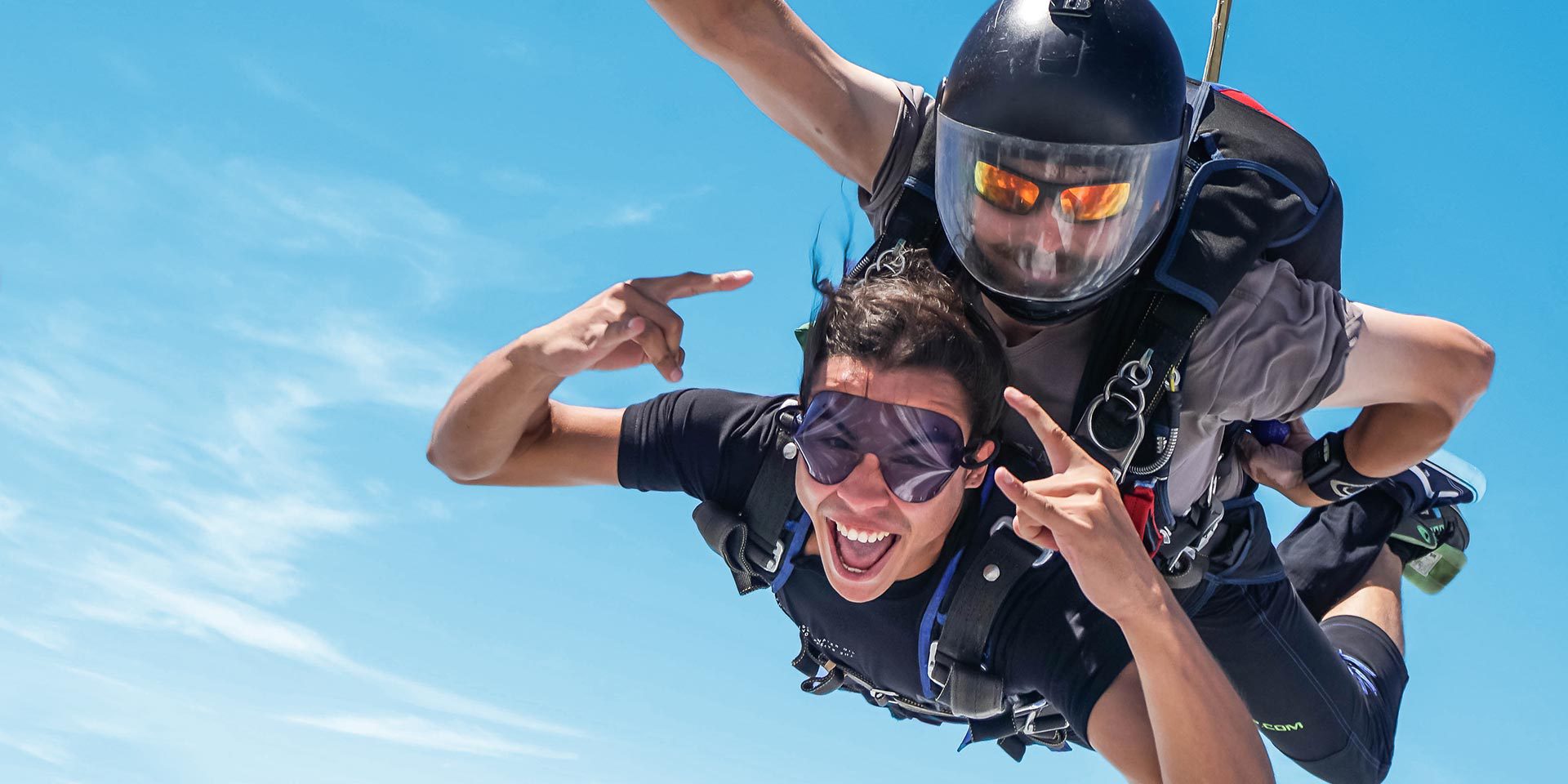 Don't Miss A Beat! Starting At: $120
Media Packages
The moment you've been waiting for can go by in a flash – don't miss it! With our wicked-fast editing software, you'll get 60-120 photos and three versions of your video the same day!
Insta Movie 50 Seconds Your ultimate skydiving highlight reel – #bostonskydivecenter!
Jump Movie 30 Seconds Super-cool footage of your airplane exit and amazing freefall!
Full Movie 3 Minutes Every moment of your skydive, from wheels up to touch down!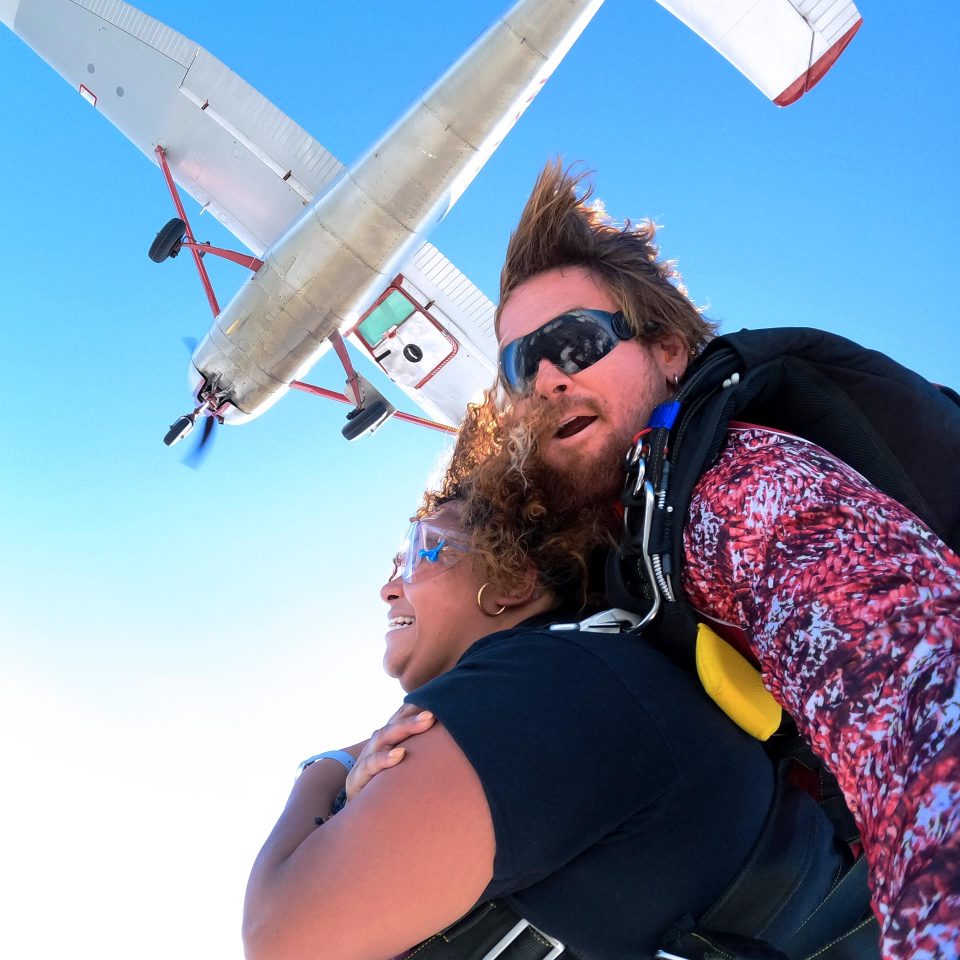 ---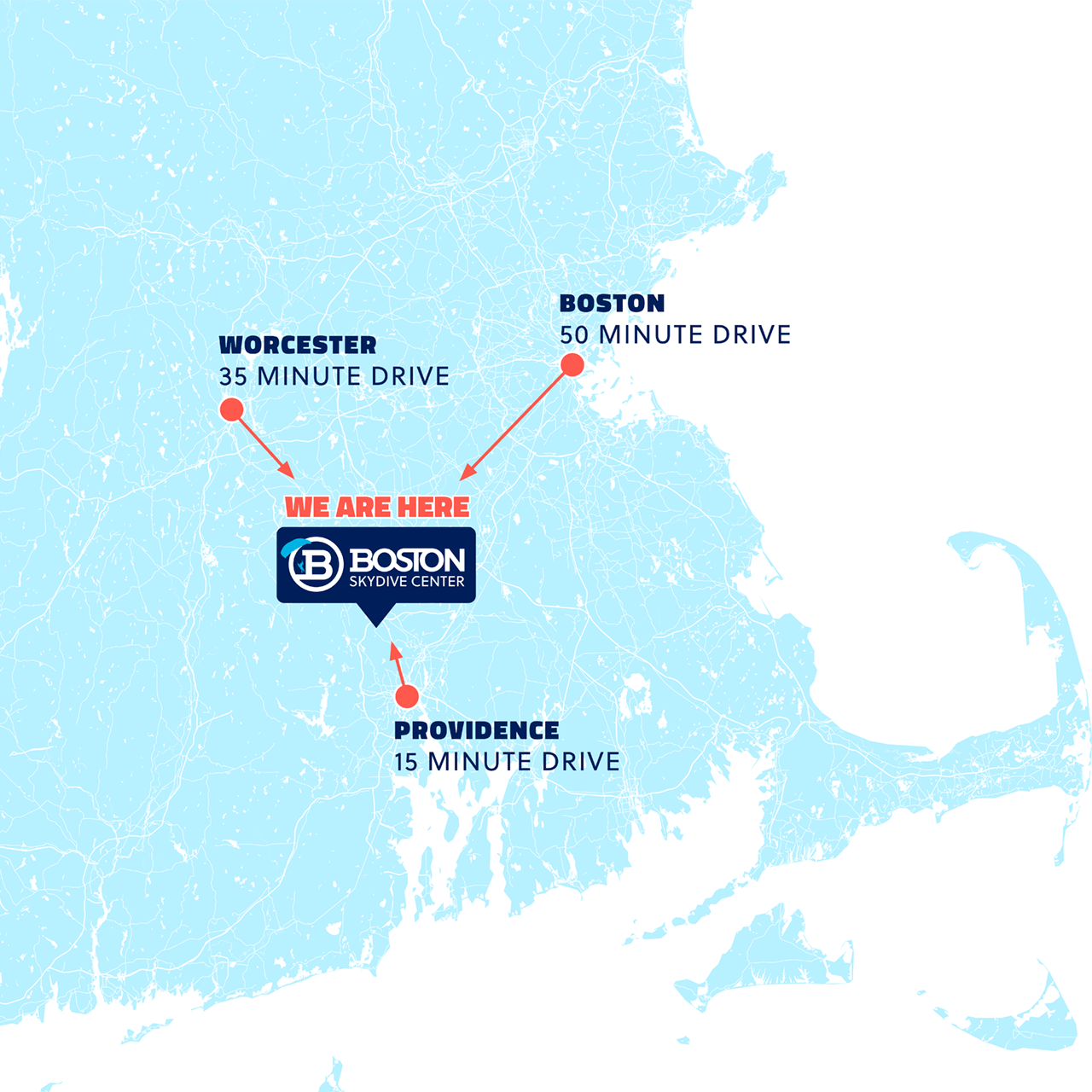 Home Town Proud
Boston Skydive Center is conveniently located within an hour from Boston and Worcester, Massachusetts, and less than 20 minutes from Providence, Rhode Island. We're a stone's throw from numerous New England colleges and universities and even offer a $25 student discount – tandem skydiving with us is a no-brainer!
Come see why Boston Skydive Center has been the #1 choice for skydiving in Massachusetts and Rhode Island for more than a decade!
Skydive Boston with Confidence
Why Choose Us?
At Boston Skydive Center, we prioritize safety, professionalism, and stellar customer service. We're not your average turn-n-burn tandem skydiving center – we recognize that your jump with us may be a once-in-a-lifetime adventure, and we are dedicated to making it awesome. 
Our instructors represent the region's best
Our safety record is impeccable
Our vibe is super chill
Ready? Let's go!
The Details
Frequently Asked Questions
Is skydiving safe?
Skydiving is considered an extreme sport for good reason. Like other extreme sports, it's all about calculated risk.
To mitigate the inherent risk of jumping out of an airplane, we take meticulous care of our aircraft and equipment, invest in best-in-class gear, engage USPA-rated tandem skydiving instructors, and maintain strict compliance with safety protocols.
How old do you have to be to skydive?
You must be at least 18 years old in accordance with regulations set forth by the United States Parachute Association (USPA).
Permission from a parent or guardian won't cut it – be sure to bring your valid, government-issued photo ID. No identification, no jump; no kidding.
There is no maximum age for skydiving. If you're in general good health and your doctor is good with you jumping out of a perfectly good airplane, do it!
Is there a weight limit for skydiving?
Yes. At Boston Skydive Center, you must weigh no more than 250 lbs – clothing and shoes included – and be height-to-weight proportionate to be eligible to skydive.
All students will be weighed before jumping (with shoes on). To compensate for the increased workload the instructor bears and the additional weight on the equipment, a fee will be applied for all students over 200 lbs.
| | |
| --- | --- |
| Weight | Fee |
| 200-215 | $15 |
| 216-225 | $35 |
| 226-240 | $50 |
| 241-250 | $75 |
What is Boston Skydive Center's refund policy?
All payments are non-refundable but are transferable. All sales are final. The promotional price is valid for up to 1 year from the date of purchase and can be applied to the full rate only after the one-year expiration date.
You can manage your reservation using the booking link in your confirmation email or by contacting the dropzone.
What happens if there is bad weather?
If we deem that the weather is unfit for skydiving, we will reschedule your jump or put your reservation in limbo until you are ready to pick a new date. You can contact us to reschedule or manage your own booking online. No refunds.
Wind, upper-level winds, rain, and cloud cover are equally important factors that we consider when making a weather call. It may seem fine at ground level, but conditions may be unsafe at altitude.
If you are concerned about the weather on your reservation date, please give us a call before heading out to the dropzone.
Can I reschedule my jump?
You can change your reservation at any time without penalty up until 48 hours prior to your jump date. Once within the 48-hour period before your jump, a $50 fee will be charged to change your reservation.
All payments are non-refundable but are transferable. Credits are good for 5 years. Discounts available at the time of initial booking are valid for up to 1 year from the purchase date and can be applied toward the full rate for the 4 years that follow.
No-shows forfeit all processed payments. No exceptions.
You can manage your reservation using the booking link in your confirmation email or by contacting the dropzone.
Can I ride with my friends in the airplane?
Our airplanes can accommodate up to two students at a time. Groups of more than two will go up on consecutive flights. You can hang out before and after, and ham it up for the camera together too. (Pro tip: get the video and photos – you won't regret it!)
How qualified are the instructors?
Boston Skydive Center's tandem instructors are highly experienced, trained, and credentialed skydiving professionals. The road to earning your tandem instructor rating is long. Candidates must:
Earn their USPA D license (after earning A, B, and C licensure)
Log at least 500 jumps (our instructors have way more than 500)
Accrue a minimum of 3 years in the sport
Possess a current FAA Class III Flight Medical Certificate
Complete Tandem Instructor training course